D69-2049 High-Definition Color LCD Digital AC Power Voltmeter Ammeter
Brand

NQQK

Size

79x43x48mm
D69-2049 High-Definition Color LCD Digital AC Power Voltmeter Ammeter
Product Description
The D69-2049 digital multifunction meter displays the measured AC voltage, AC current, active power, and power at the same time on a single meter. The instrument display part adopts the color high-definition liquid crystal display.
1. Measurement accuracy: 1%±2 words
2. Measurement range: AC voltage: AC80.0-300.0V or AC200.0-450.0V, true RMS measurement, select a suitable range according to your needs when the customer orders.
AC current: AC0-99.99A, current display resolution is 0.01A, display 100.0A when over 100A
Active power: display range 0-9999.9W within 0-10000W, 10000-22000W above 10000W
Electricity: The measuring range is 0-9999999kwh
0-9999.999kwh display resolution is 0.001kwh
10000.00-99999.99kwh Display resolution is 0.01kwh
100000.0-999999.9kwh display resolution is 0.1kwh,
The rest is 1kwh
3. Measurement speed: 2 times per second
4. Overall dimensions: 79*43*48mm
LCD screen size: 52*26mm
Font height: 6mm
5. Installation size: 76*39mm
6. Save/memorize function: When the instrument is powered off during use, the meter's electricity accumulation value will self-store.

[Can also be cleared manually, press and hold the instrument panel small button for 5 seconds to clear all electrical receipts. 】
7.(100A transformer hole diameter 15.5mm) can meet the national standard 21-25 square (mm) standard copper wire through
Use and wiring method
1. According to the wiring diagram of the drawing, connect the secondary terminal (green lead) of the current transformer of the instrument to the blue terminal of the instrument, and pass the wire of the measurement circuit through the middle circle of the current transformer. hole.
2. Connect the voltage measurement lead to the green terminal of the meter, then measure the voltage as above to start reading the measurement result.
3. Meter after power on The measured value is displayed.
4. Press and hold the clear button on the front panel of the instrument for 5 seconds. The meter's charge level value will be cleared.
5. Extreme working conditions:
Working temperature: -10~+50°C
Operating Humidity: 10 to 80% (without condensation)
Working pressure: 80~106kPa
Sunlight: No direct exposure
Precautions
1. The wiring of the voltage input (green) terminal and the secondary input terminal (blue) of the current transformer cannot be connected incorrectly, otherwise the instrument will be damaged! ! !
2. The meter is only applicable to the mains power of pure AC 50-60HZ, and it can not be used for square wave, inverter output and modified sine wave circuit measurement, otherwise the meter will be damaged! ! !
3. In the process of installing the instrument, remember that the LCD screen of the instrument cannot be squeezed, otherwise it will be garbled/failure code! ! !
4. Many buyers responded: how wrong is the data I test, voltage * current = power, the actual test power is less than the voltage * current, which is why?
A: This shows that many buyers have very poor basic knowledge of electricians. In this simple popularization of the following, I hope not to say that there are problems with the table: the power is divided into three types: active power (P said / unit W), reactive power (Q said / unit Var), apparent power (S said / Unit VA). Here only active power, other buyers please Baidu. The formulae for calculating the active power are: P=U*I*cosφ, cosφ represents the power factor, and the power factor of a purely resistive load (such as an incandescent lamp, fast heat, etc.) is generally close to 1, and the inductive and capacitive load power factor is 0-1; So when testing a purely resistive load, P is basically equal to or close to U*I; when testing inductive or capacitive loads (such as refrigerators, washing machines, televisions, computers, etc.), P<U*I As for the specific number to be related to the power factor, the power factor of each household appliance is different.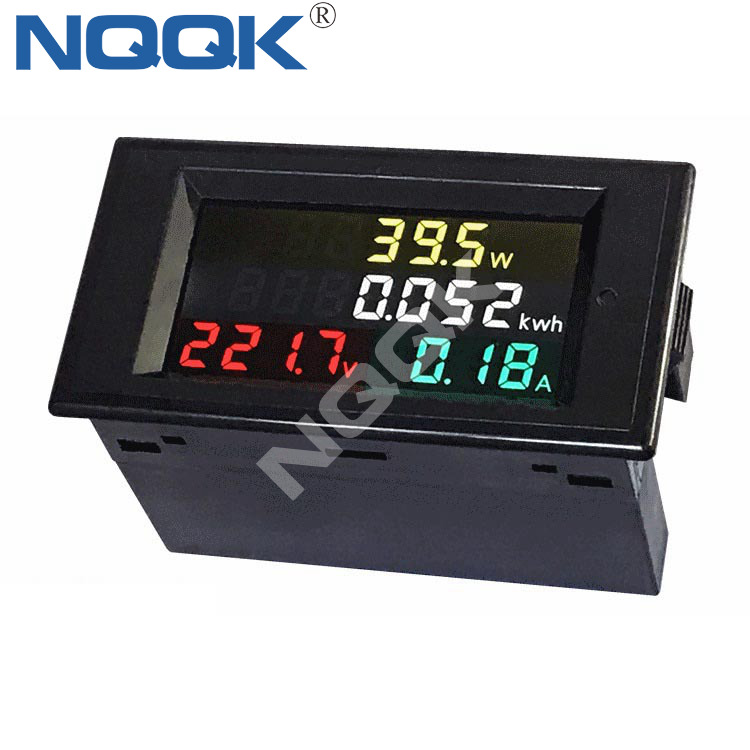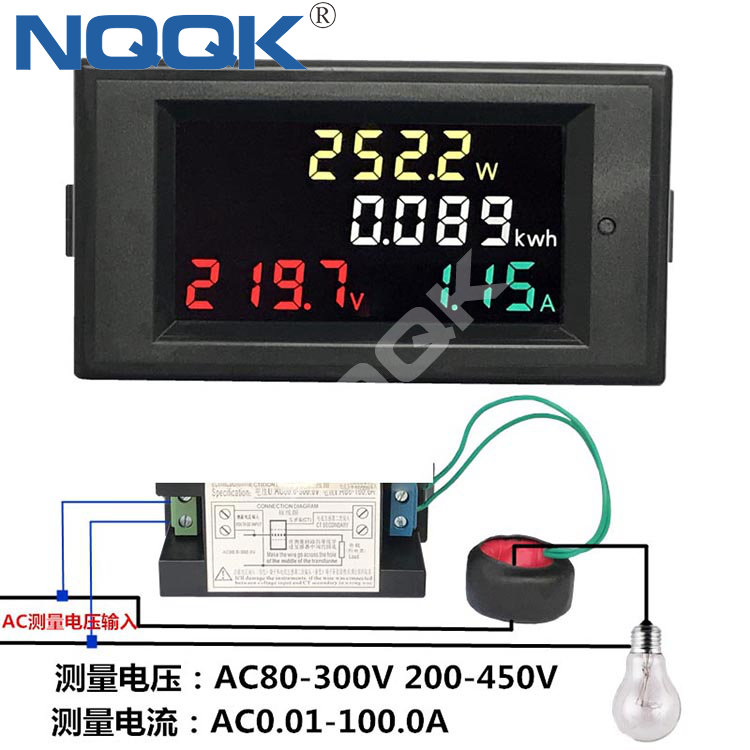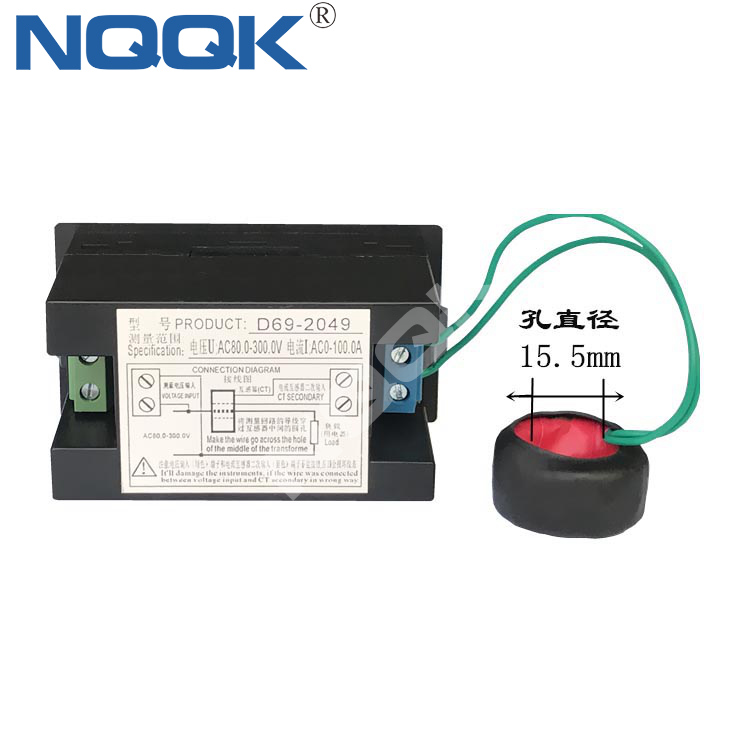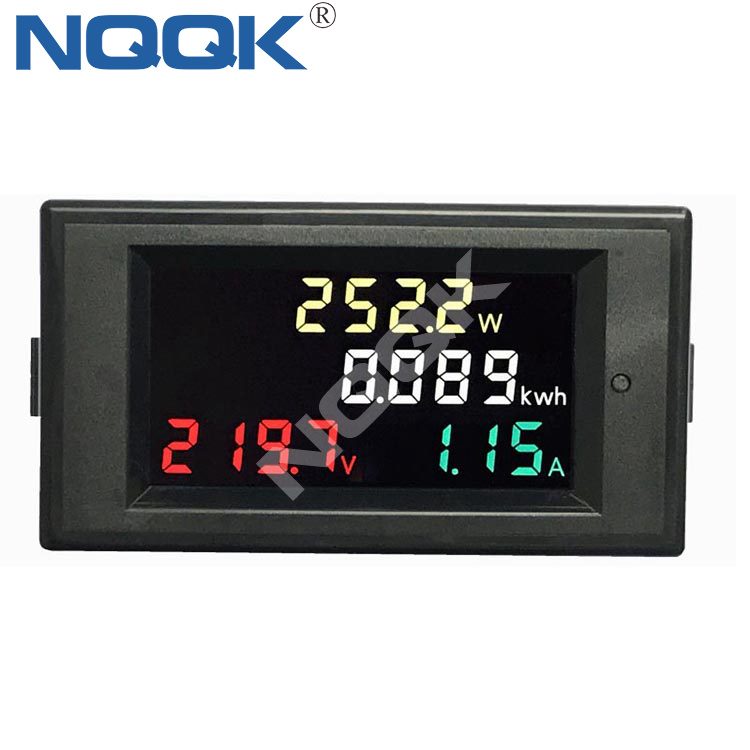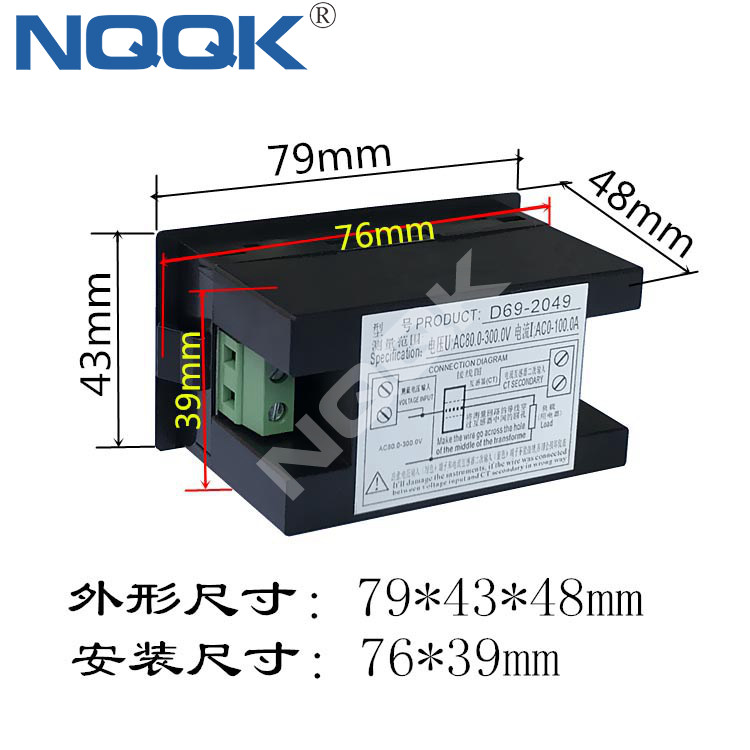 DL D69-2049 High-Definition Color LCD Digital AC Power Voltmeter Ammeter D69-2049 High-Definition Color LCD Digital AC Power Voltmeter Ammeter D69-2049 High-Definition Color LCD Digital AC Power Voltmeter Ammeter
Trade Information
| | |
| --- | --- |
| Trade Terms | FOB ,CIF ,CFR,EXW,DDP |
| Payment terms | T/T,L/C,Western union,Paypal,Escrow,MoneyGram |
| Payment conditions | 30% deposit in advance,70% balance before shipping. |
| Delivery time | 3-7working days after deposit,2-4 working days for inventory |
| Packing | Neutral carton,Wooden case for large size |
| Shipping | By sea,by air and by express delivery |
FAQ
Q:How to order our product ?
A:1).Please tell us the model and quantity and other request you need.
2).We make the PI for you.
3).After you confirm the PI, we arrange the order for you after receiving your payment.
4).After the goods finished, we send the goods out to you and tell you the tracking number.
5).We will track your goods until you receive the goods.
Q: What's your warranty ?
A: 1-2 years
Q: What's your contact information:
A: Our address: Liushi town, Zhejiang province, China.
Q: What's your shipment method?
A: We ship by Express, by air, by sea, by train. Normally we checked and compare, then provide
customer the most proper shipment method.
Q: What's about MOQ?
A: First order MOQ=1pcs
Q: If i want to release order, what's the payment method you accept ?
A: We accept T/T, Paypal, Western union, L/C,etc.
Q: If i want to release order, what's the process?
A: Thanks. You can send inquiry to us by alibaba, or send us by email, we will reply within 24hrs.
Contact us

ADD:NO.18 QunYing Road, Xingguang Industrial Zone, liushi, Yueqing City, Zhejiang, China
Tel: +86 577 61787391 Fax:+86 577 61787392
Skype: NQQK ELC
Mobile/WeChat/WhatsApp:+86-139 6878 5810
Feedback