NT00 NH00 2A 65A160A 660V 690V HRC Low Voltage Fuse link
Product Description
Features
According to IEC60269,DIN43620,GB13539 and CE Safety,Rohs CERTIFICATE
Rated voltage:AC500V/690V or DC 440V
Rated current:2A~1250A
Exception:Size 00 with DC 250V
Operating class:
gL/gG for cable and conductor protection
aM for motor protection
aR for semiconductor protection
Finely graduated selectivity
Rated breaking capacity:AC 120kA(Size 00:AC 50kA)
Type
Rated current(A)
Dimension(MM)
Unit Weight(g)
NT00C
2,4,6,10
A
78
145
R030C
16,20,25,32,
B
49
C
15
36,40,50,63,
D
21
E
52.5
80.100A
F
6
NT00
2,4,6,8,10,20,25,
A
78
180
B
49
RT16-00
32,36,40,50,63,80,100,125,160
C
15
D
28.5
E
55.5
F
6
NT0
4,6,10,16,20,25,32,36,40,50,63,80,100,125,160A
A
122
240
B
65
RT16-0
C
15
D
29
E
55.5
F
6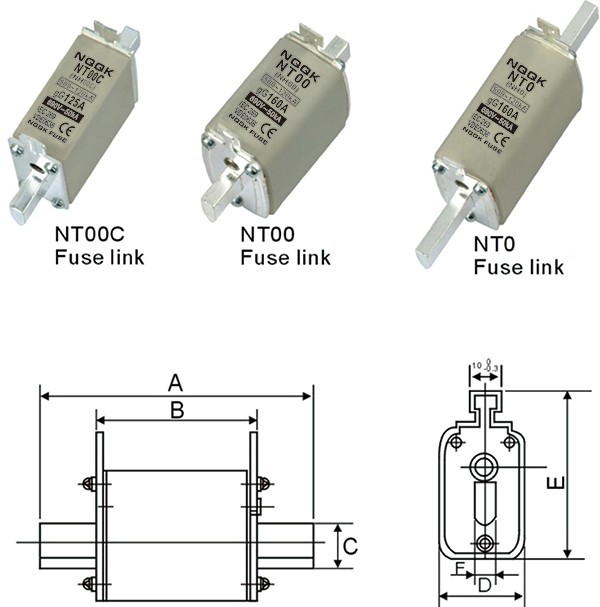 NT00 2A 50A 63A 100A 660V 690V HRC Low Voltage Fuse linkNT00 2A 50A 63A 100A 660V 690V HRC Low Voltage Fuse linkNT00 2A 50A 63A 100A 660V 690V HRC Low Voltage Fuse linkNT00 2A 50A 63A 100A 660V 690V HRC Low Voltage Fuse linkNT00 2A 50A 63A 100A 660V 690V HRC Low Voltage Fuse link
Trade Information
| | |
| --- | --- |
| Trade Terms | FOB ,CIF ,CFR,EXW,DDP |
| Payment terms | T/T,L/C,Western union,Paypal,Escrow,MoneyGram |
| Payment conditions | 30% deposit in advance,70% balance before shipping. |
| Delivery time | 3-7working days after deposit,2-4 working days for inventory |
| Packing | Neutral carton,Wooden case for large size |
| Shipping | By sea,by air and by express delivery |
| Payment conditions | 30% deposit in advance,70% balance before shipping. |
| Delivery time | 3-7working days after deposit,2-4 working days for inventory |
| Packing | Neutral carton,Wooden case for large size |
| Shipping | By sea,by air and by express delivery |
FAQ
Q:How to order our product ?
A:1).Please tell us the model and quantity and other request you need.
2).We make the PI for you.
3).After you confirm the PI, we arrange the order for you after receiving your payment.
4).After the goods finished, we send the goods out to you and tell you the tracking number.
5).We will track your goods until you receive the goods.
Q: What's your warranty ?
A: 1-2 years
Q: What's your contact information:
A: Our address: Liushi town, Zhejiang province, China.
Q: What's your shipment method?
A: We ship by Express, by air, by sea, by train. Normally we checked and compare, then provide
customer the most proper shipment method.
Q: What's about MOQ?
A: First order MOQ=1pcs
Q: If i want to release order, what's the payment method you accept ?
A: We accept T/T, Paypal, Western union, L/C,etc.
Q: If i want to release order, what's the process?
A: Thanks. You can send inquiry to us by alibaba, or send us by email, we will reply within 24hrs.
Company Information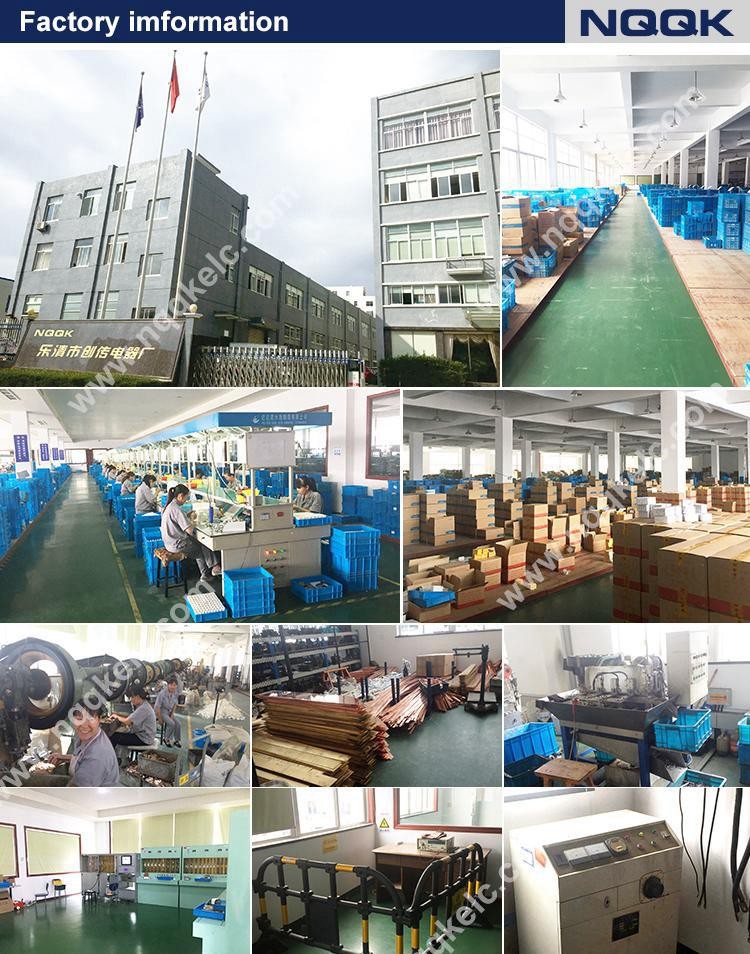 Yueqing Nqqk Electric Factory is a special factory,which has a 13 years history of manufacturing low and high-voltage fuses.
The company is located in Liushi-Electric City of China,Wenzhou.There the environ-ment conditions are very well and the
transport is quite facile.
The company produces two main ranges of fuses-low-voltage fuses and high-voltage fuses.The low-voltage fuses include
knife type,cylindrical type,screw base type,bolt-connecting type and square tube type.They are widely used in industry ,commerce,housing,electricity,etc.The high-voltage fuses are used for transformers,electrical motors,transformer instruments,
electicity,etc.The high-voltage elect-rical equipments.They have the features of high breaking capacity,low power loss,high
sensitivity.All the products conform to the standards of IEC269 and GB13539.Most of the products conform to standards of
CE,CCC,CB,etc.The company has built up ISO9000 quality system to guarantee the products 'quality.
In order to produce the superior products, the company has been developing advanced technology for fuse on its own but
also introduced the advanced technology from some advanced countries.Over the past 13 year's efforts, the company is able
to supply 20 series with more than 500 models of fuses. With excellent quality and good service, the products are well sold and
received by people throughout the world.
"Quality is always the company's life and customers are always the company's focus"is the compa-ny's motto.Complying with
the motto, the company sincerely hopesw to provide more and more excellent quality goods and the best service to our customers
all over the world.It would be highly appreciated to cooperate with you,definitely you will find that this company will be your best
partner in china.
Contact us
ADD:NO.18 QunYing Road, Xingguang Industrial Zone, liushi, Yueqing City, Zhejiang, China
Tel: +86 577 61787391 Fax:+86 577 61787392 Skype: NQQK ELC
Mobile/WeChat/WhatsApp:+86-139 6878 5810
Web:www.nqqkelc.com / www.nqqk-china-manufacturer.com/
E-mail:sales at nqqkelc.com
Thank you & Now send your kindly inquiry below, please!
Feedback